A skylight or roof window can truly add character to your home. It's the best way to let in more light as they offer up to 40% more natural light in than traditional windows. So if you've decided to implement them into your home, we can guarantee that you've made the right choice.
But that choice is only the first step. Now that you know you want a skylight or roof window, it's time to decide exactly what type you want. There are as many windows to choose from as there are things to consider before you install one of them.
The design
Besides aesthetics, the design of your skylight or roof window largely depends on a range of practical factors that you need to take into account. Whether you want to achieve a rustic or modern look for your home, it goes without saying that you need to consider more than just looks when choosing a skylight. The frame of your window, however, will pretty much only depend on your visual preferences, so make sure that matches the style of your home.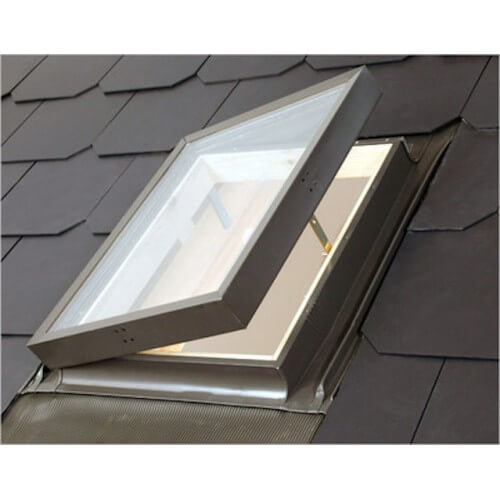 The placement
When determining the place you'll install your window, try to figure out the optimal place when it comes to lighting. A properly placed skylight can greatly increase the amount of natural light that comes into your room, so think carefully on that. Make sure the glass comes with the proper glazing, as otherwise you risk a greenhouse effect in your home, so make sure you minimise your UV levels while sustaining an adequate amount of sunlight.
Another factor involving both the placement and the type of glass is whether you'll be walking on it or not. While walk-on roof windows can be a very practical solution when you want both a terrace and a brightly lit room, you have to take that into account so that you can choose the appropriate glass thickness.
The technology
Do you want your skylight to open? A fully opening skylight will allow you to let in more air into your home, though that isn't always totally necessary. However, if you do decide that you want your roof window to open, another choice opens up – do you want a manual opening mechanism, or an electronic one?
While an electrically operated skylight will no-doubt be a more comfortable solution considering you only have to push a button, without even moving from your seat, there are benefits to manually-operated roof window. Not only are they cheaper, they are also simpler to use. However, you need to be able-bodied in order to properly operate them, so electric windows might be the way to go for the elderly or those otherwise incapable of performing such actions.
Whatever choice you may make based on those factors, you can be sure you'll find just what you need in our robust catalogue.