If you have a dark stairway in your home with no direct access to sunlight, you're probably already familiar with all the available solutions that can improve its appearance and make it brighter. From painting the walls white, using light flooring materials or glass railings to hanging mirrors and adding more lamps and lights, there are many ways to stop your stairwell from being dim and gloomy. But none of these options is as effective as simply bringing more daylight into your house by installing skylight windows right above the staircase.
Give your home a makeover with stairwell windows
Stairwells and their aesthetic value tend to be overlooked when it comes to interior design. For many homeowners, it's ensuring their functionality that's the most important issue. After all, stairs are supposed to provide easy, safe and comfortable access to the higher floors. Unfortunately, this approach can negatively impact the appearance of your entire interior design if you end up with an unpleasant stairwell that's full of shadows and requires using artificial lighting even during the day. In many cases, the problem is caused by the location itself. When your stairwell is located in the centre of the building, it has no connection to its outer walls and, in effect, no windows to bring the light in – unless you consider installing windows for stairwells on your roof! Skylight windows installed over staircases offer incredible results, completely transforming the area beneath them and introducing sunlight into those parts of your home where access to natural light seemed impossible before.
The benefits of installing stairwell skylights
It's an easy way to transform an unappealing staircase into a beautiful, bright and airy one. With light getting into your home directly through the roof, your stairs, landings and the surrounding area will be well-lit and perfectly visible throughout the entire day.
You can use the full potential of your staircase. When your choice of colours, textures and materials isn't limited by the lack of natural light, you get more freedom to choose decorative elements based on your taste and the style of your home.
Improved safety and energy savings. Improved lighting means improved visibility, and this is incredibly important for your safety. When going up and down the stairs, you need to be able to see each step clearly to make sure that you don't trip and fall down. With dark stairwells, you often need artificial lighting to see where you're going, even in the middle of the day – installing a skylight solves this issue and offers you a natural source of light for free.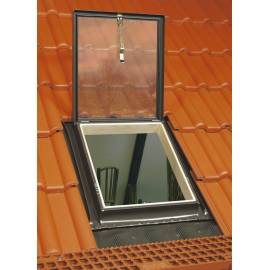 Things to consider before installing skylights
Remember that there are different skylights available for flat and pitched roofs, so make sure that the model you're interested in is suitable for your building before the purchase.
In most cases, skylights can be installed without the need for planning permission under permitted development rights. If you're not sure whether these rules apply to your building as well, we advise you to contact your local authority to check the exact regulations.
Before making any alterations to the roof structure, it's always best to consult a professional to ensure that the installation in your chosen location is possible and can be carried out safely without any risks.
Whether you opt for a modern roof window with an electric opening and closing mechanism, a fixed skylight, or a sun tunnel, with our high-quality products, you can easily increase the comfort of your home, improve its appearance and save energy all at the same time!