The kitchen is not only one of the most important places in the house, but many would also say it's the very heart of their home. It's not a surprise then that it should be both comfortable and functional. And you cannot achieve this just by making sure you have enough storage and a suitable work surface available. Letting as much natural light into the kitchen as possible can make it look more welcoming, but at the same time, it's also a great way to save energy, because a well-lit room doesn't need so much artificial lighting, at least not throughout the day.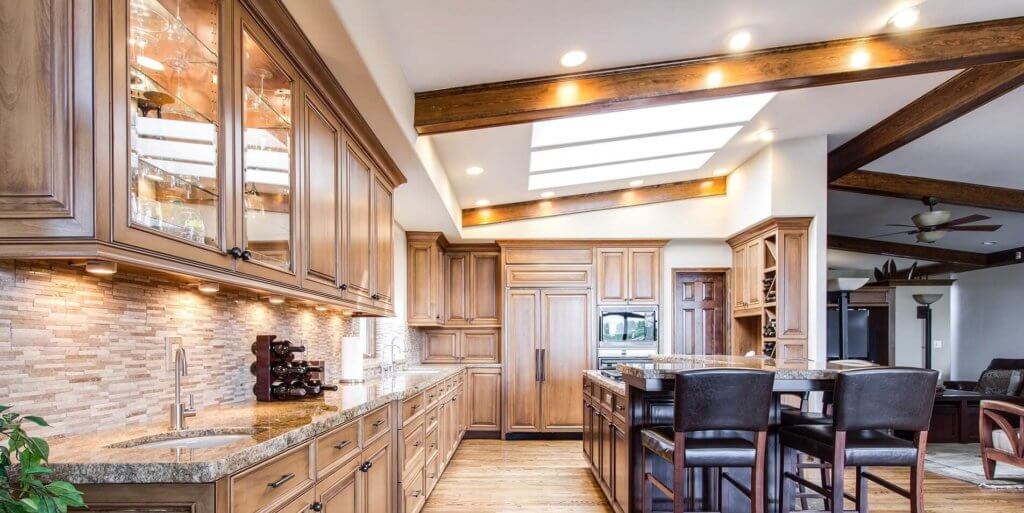 Of course, when planning a kitchen, you want to add as many cabinets as possible to be able to keep your kitchenware out of sight. Yet for many people, this means a choice between more cabinets or big windows that will let in a lot of daylight. However, there is a solution to this issue. You can completely transform your kitchen with skylights.
How can kitchen skylights improve your kitchen?
Placing a skylight in your kitchen can give it a completely new appearance. It's important to remember that light can create an optic illusion and make the room appear much bigger than it actually is. And if you combine light with using lighter colours, the effect will be even better. Then there's also the fact that natural light can have a huge impact on your mood. It brings positivity and happiness into your life. Not to mention that it can boost your productivity. That's why letting more sunlight into your kitchen with roof windows is such a great idea. You can not only make it look more welcoming and appealing, but you can also make sure that the time you spend there preparing meals and sharing them with your family or guests will be much more enjoyable.
But it's not all about making your interior design more attractive, it's also about practicality. Living costs are constantly going up, so it's important to look for savings wherever you can. Since roof windows increase the amount of sunlight that can get into the house, they limit the need for artificial lighting. Your working surfaces will be sufficiently bright even without using lamps, and you'll be able to notice the difference in your energy bills.
How to choose the best skylights for homes
The first thing you should do before buying your new skylights is consulting with an experienced roofer or architect. Getting professional advice and making sure there are no structural issues that could impact the durability of your roof is incredibly important.
The second step you need to take is finding out what your roof type is. There are different models available for flat and pitched roofs, so you need to have such information before you purchase anything. And if you plan on using your windows to ventilate the room, you'll need to find a suitable opening system as well. Of course, this won't be an issue if you can reach the window comfortably. But in other cases, buying an opening rod or even investing in an electric opening system may be worth considering.