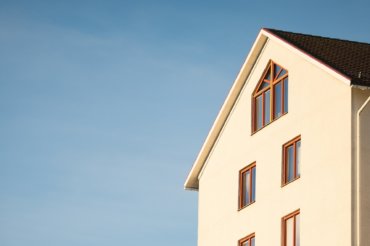 There may be many reasons behind the decision to convert your loft, but achieving a space full of natural daylight is the central element in each of them. Although choosing perfect windows is essential, making the right choice among all available alternatives can be a complicated matter. Limiting your options to the types designed for your roof is a good way to speed up the planning process. A lot depends on the roof pitch, so it is important to check the requirements of a given model before purchasing it.
Flat roof
A vast selection of windows is made specifically for roofs with pitches between 0° and 15°. They are designed for flat roofs, but it is usually recommended to install them with a minimum of 3° pitch to ensure adequate drainage.
Popular window types for flat roofs
Glass-domed rooflights are designed to prevent rainwater from gathering on the surface and reduce condensation. Their structure is also helpful in stopping all the external noises from entering your house.
Flat-glass rooflights are the most affordable but they require installation of the supporting stand. The information on whether it is included in the package or you need to build your own stand will be outlined in the product description.
Roof lanterns are a more luxury option, but they can give your loft a very unique feel and grant you an incredible view of the sky above. Although for the most part they are non-opening, some brands offer the option of adding ventilation.
Walk-on rooflights allow you to enjoy all the benefits of having a roof window, without restricting accessibility to the roof's surface.
Pitched roof
Another group of windows is designed for roofs with a pitch of over 15°. When choosing from this category, you might want to consider the purpose of the space you are creating. In the case of bathrooms or kitchens, you might want to invest in moisture-resistant solutions. If you want to enjoy all the benefits of a beautiful view, a bigger window may be the best for you. But if your main concern is maintaining privacy and liming visibility from the outside, subtler options are also available.
Popular windows for pitched roofs
Centre-pivot roof windows are the most popular and the most cost-effective type. They are a good option for more spacious rooms, as opening them results in half of the sash protruding into the room.
Top-hung roof windows allows the same advantages as the centre-pivot window when it comes to view and ventilation, while saving a lot of space, as the entire sash exits the room after opening.
Side-hung roof windows often serve as an emergency exit. Because of the sash opening to 90°, they may provide easy access to the roof.
Opening options
If no extra ventilation is necessary in the room, installing fixed windows is the most affordable option. However, when roof windows are meant to be the main source of fresh air, there are two opening types to choose from. Manually operated windows are the cheaper variation, although they may require the use of an opening rod if installed out of reach. A more expensive but very efficient solution is an electric opening system, which gives you easy access to all windows.