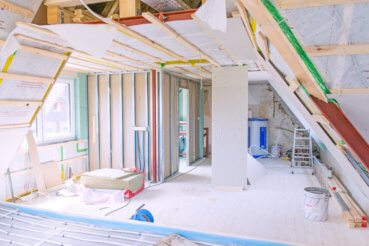 Loft conversion is a great idea for summer. It allows the creation of additional living space full of natural light. While choosing the purpose of the newly acquired room depends on the particular needs of the homeowners, proper planning is essential in all cases. Many factors have to be considered when deciding which type of conversion to go for, including available headroom, the intended use of the space, and budget. That's why some conversions require much more work and funds than others.
Internal conversions
These conversions are generally much cheaper and easier to execute. They mainly involve adding roof windows and insulation. Not many other roof structure alterations are necessary, which significantly lowers the costs.
Dormer loft conversions
Dormer loft conversions are the most popular type of loft conversion. They don't require big construction works and leave you with a significantly bigger space as a result. Adding dormer windows gives many different opportunities to alter the room accordingly to its purpose. Single dormers are the most common, but in order to maximise the space, full-width dormers can be used.
Maximising daylight
Big floor-to-ceiling windows are a great idea in a loft, as they maximise the amount of light coming into a room. This option works especially well when there's unoccupied roof space available, which could be changed into a terrace or roof garden. However, a lack of additional space doesn't mean there's no way of creating a great, relaxing space for sunny afternoons. Combining such windows with a railing or a barrier right outside can give you an effect similar to having a balcony without any external construction work.
Keep your loft cool
Due to their position in the house, lofts can get unbearably hot during summer months. It's important to keep this issue in mind during planning, because there are simple and practical ways to solve it. Guaranteeing good air flow through the room will prevent it from getting stuffy, which is why ventilation is key here. Even extremely hot days won't be problematic with proper insulation, it will not only keep your loft cool in the summer, but also keep it warm during winter. Investing in the right blinds is a great choice as well, as they can block the sun and help regulate temperature.
Cost-effective
Choosing the right windows for your loft has a big influence not only on the amount of space and headroom they can provide, but also allows you to save energy and keep the bills down. Windows placed in a way that will maximise the daylight in a room can reduce usage of lamps in the room to a minimum.