Whether you're building a home, converting your attic to a loft or simply replacing your roof windows, it is not an easy decision. Not only will choosing the right windows impact the value of your home, but it will impact your comfort and its curb appeal as well. The process can be lengthy and expensive as well. These are all reasons why choosing the right pitched roof windows is essential.
But sadly, choosing the right windows isn't straightforward: The location of your property, its architectural style, your budget, your goals, and the functionality of the windows are all important considerations when choosing the ideal windows for your house.
Before making a purchase, it is crucial to comprehend the variations between styles, materials, window components, and operational designs of each window.
Window Frames – wooden or PVC ?
Window frames are one of the most crucial considerations when purchasing new or replacement windows. They are a window's structural foundation, and a good frame will ensure it lasts for many years.
When searching for high-quality windows, pay attention to the frame of the window first before thinking about the pane. Before making a purchase, it's critical to know the style and dimensions of the roof window frame you need, and after that, you need to choose the material.
Wooden windows
Pine frame windows are one of the most popular windows on the market these days mainly due to the price as these windows are cheaper than PVC windows.
When maintained properly, wooden windows are equally as strong and long-lasting as other window frame materials. They have been utilized in households for many centuries. The basic strength and visual appeal they always have are still present after all these centuries, and that's why they are widely used all around the UK.
PVC windows
These pitch roof windows have frames constructed of PVC (polyvinyl chloride), the same material used to create plumbing pipes and fixtures.
PVC windows are more expensive than wooden windows and will require less maintenance in the long run. Smooth surface can be easily cleaned without causing any damage to the surface, as long as you are not using abrasive cleaning products. 
Finished in white will suit any room interior.
These windows are highly recommended to use in high humidity rooms such as bathrooms and kitchens.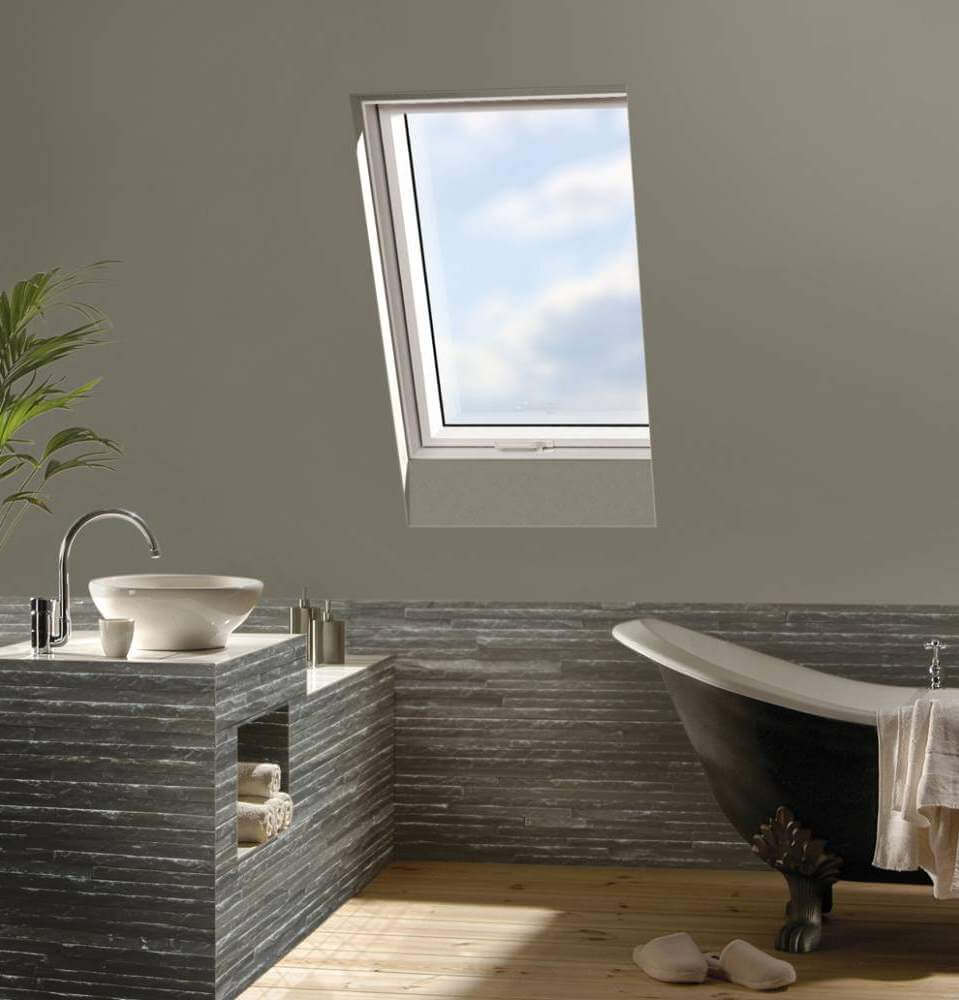 Pitch roof windows opening methods – centre pivot or top hung ?
By far centre pivot opening windows are the most popular choice.
Windows with a centre pivot have hinges located in the middle of the frame, allowing the window to rotate in place and when opened half of the window is staying in the room and the other half is outside.
On a plus due to how it opens, a centre-pivot window can be installed lower than other types of windows and it can be easily cleaned from the inside of the room, as all you would need to do is to rotate the sash to clean the external glass pane. Also the centre pivot are less in price in comparison with a top hung opening window.
Downside of the centre pivot window is the space that the sash will take in the room when the window is opened. When you open the window half of the sash is in the room and if you install the centre pivot roof window in a room with a low roof you have to be careful when passing by as you might bang your head on the sash.
Top-hung roof windows resemble centre-pivot windows in appearance, with the exception that top-hung windows have a hinge at the top. The window may swing wide open since the hinge is at the top and the opening handle is at the bottom.
This type of window is ideal for loft conversions since it will provide you with unobstructed views and more natural light. If you want to make the most out of this type of window, you need to install it in a way that's within easy reach and unobstructed.
On plus, the top hung windows are installed at eye level which gives you the ability to stand under and have a better view and they don't cause any obstructions in a room as the opening sash exits the room when the window is opened.
Downside is the cleaning of the external glass panes on these windows. They are not as easy to clean as the centre pivot windows.
Internal finish – white PVC or pine?
The white PVC color of the window is the most neutral color and fits well with any room interior finish. No matter what color interior you have, white will suit almost everywhere. The white color is also a light colour and it gives you more brightness in a room. 
PVC roof windows are also easier to maintain and keep it clean.
These roof windows can be installed in every room from bedroom to utility room. Because they are made of PVC material these windows are highly recommended to use in high humidity rooms such as bathrooms and kitchens.
Pine finished windows are also very well made and nicely finished roof windows. Window frames and opening sashes are made of natural pine wood which is treated to serve you well for many years. Every wooden window is varnished and it will suit more traditional interiors.
All pine finished roof windows are a cheaper replacement option for PVC windows so it's a perfect choice if you are on a budget.
The size of the window
Before you will purchase the window you have to check if the window is suitable for the installation and if it fits in the space you planned.
For all the windows we offer you can find a useful installation manual showing how to install the windows and opening spaces needed for installation.
Pitch roof windows are available in various sizes. We offer pitch roof windows in the most popular and standard sizes, from small sizes starting at 55 x 78 (cm) to large 114×118 (cm).
We also offer windows in less popular sizes, such as our Sunlux timber roof windows 47×78(cm) or 47×98 (cm) that might be a perfect choice for a narrower installation or 134×98 or 94×78 which are landscape size windows ( wider than higher ).
Depending on the type of the room where you are planning to install the windows you will be able to find the best size window on our website.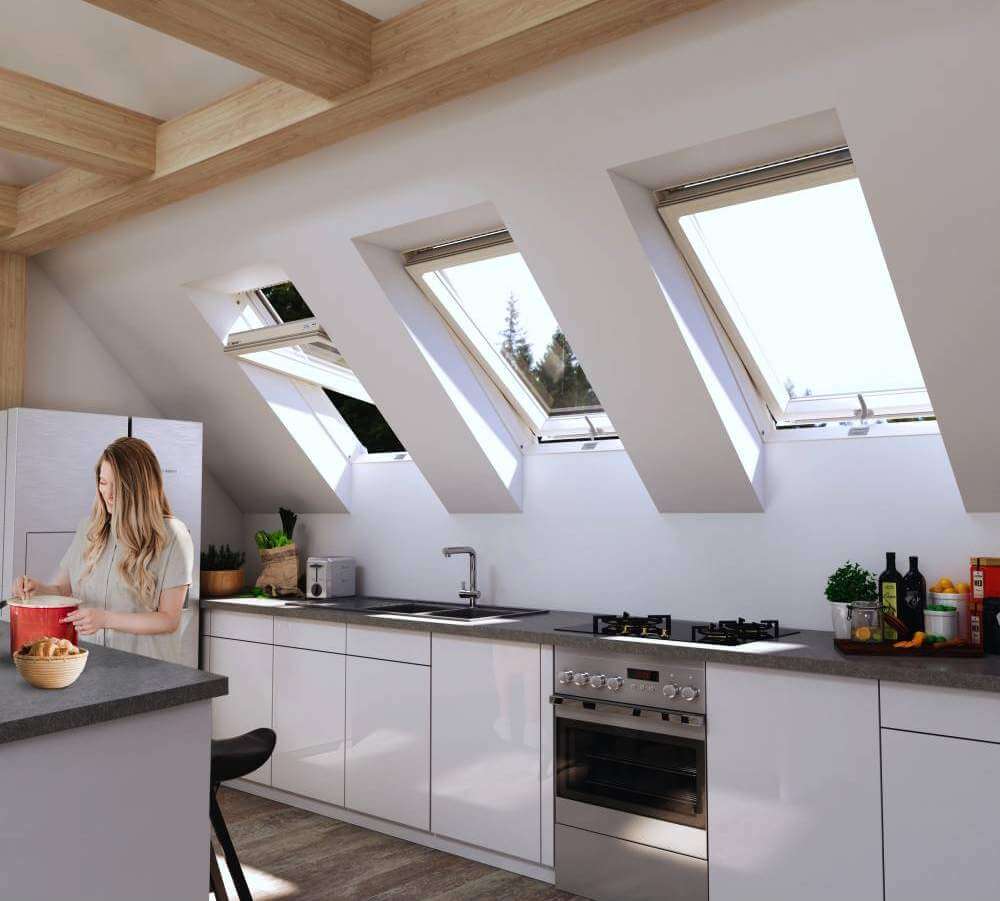 Which brand of windows to choose?
There are many roof windows manufacturers on the market so it may be difficult to give a straight answer for this question.
Velux and Fakro are two of the biggest manufacturers so if you are used to these brands the obvious choice will be either one of them. By choosing the big name you have to be prepared to pay a bigger bill.
Apart from these two leaders there are other manufacturers offering very good quality pitch roof windows.
Sunlux pitch roof windows and Optilight roof windows either the PVC or pine finish we offer are also very good quality windows. These windows have been on a market for many years now and received a lot of positive feedback from the customers and installers.
Both brands – Sunlux and Optilight offer high quality double glazed windows, centre pivot or top hung opening with technical specifications similar to the big names.
Do not be put by the name. For your piece of mind all pitch roof windows we offer are covered by the same warranty as the other windows available on the market.