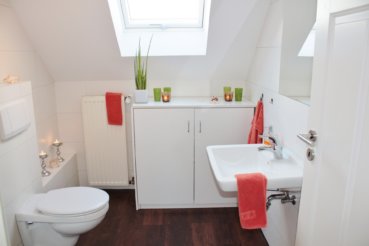 The position of the loft in the home's structure creates a lot of different possibilities when it comes to filling the space with natural daylight. But in order to achieve the best results in your loft conversion, you need to find ways that will work best in your circumstances. This means that, when deciding on your new windows, you have to consider not only what the room will be used as, but also the external factors, such as the view or privacy concerns.
Skylights
The most common way of lighting up a loft is the installation of skylights. Their popularity is based not only on great effects, as they let in much more light than regular windows, but also on the price of such a conversion. It doesn't involve a lot of roof structure alterations, as you simply install roof windows on your existing roof, which helps bring down the costs.
Dormer windows
Another popular method, if a bit more costly, is a dormer conversion. It works by adding an extension to your current roof, which creates more headspace. Therefore, it's a great solution if you're looking to add more space to you loft, but you have to keep in mind that it will increase the amount of work and investment needed.
Roof window combination
To maximise the influx of light into the room you can combine your roof windows in either horizontal or vertical rows. This way, you'll be able not only to create a stunning, sun-filled space but also gain an incredible view. You can choose to implement roof windows together with vertical windows in such a combination, which will allow you to create a balcony-like space to enjoy your time there regardless of the weather conditions.
Light tunnels
Another great option is the use of sun tunnels. They transmit the sunlight from the roof, down a reflective tube, all the way to your room. It's a great way to bring daylight into the parts of the room which couldn't be reached before. They can be fitted on both flat and pitched roofs, and also come in more flexible variations which means they do not need to be installed directly over the place you want to lighten up.
Window placement
If you want to get as many benefits as possible out of your roof windows, you have to make sure the sun will be able to get through them, that's why choosing the correct placement of your skylights is essential. Depending on what your window's position is in reference to the sun, the amount of light allowed into the room will change during the day. If you dream of spending sunny afternoons in your loft, it'd be very unfortunate if sunlight was only available there around noon. That's why it's important to consider when the room will be mainly used and include this information in the planning process.