Velux roof windows are an aesthetically-pleasing and practical addition to your home, allowing for plenty of natural light and proper ventilation inside living spaces. However, installing a window on your pitched or flat roof is only one of the several steps in a larger process, another part of which is implementing a roof flashing.
Choosing the correct flashing for your roof material is essential for the whole window to function properly. Fortunately, Velux flashing kits are able to provide a secure seal between the roof window itself and your roofing material. What flashing kit do you need for your particular model of Velux windows? Let's find out.
What Type of Roof Do You Have?  
The flashing kit that you will have to buy will depend on the type of roof your house has. Different roof coverings and pitches have different requirements, so it's crucial to get this right. Velux produces 3 main types of roof window flashing – tile flashing, plain tile flashing and slate flashing.
For a pitched roof windows, you can choose from the following Velux options:
EDL flashing kit – for slates on 15° – 90° pitched roofs,
EDW flashing kit – for tiles on 15° – 90° pitched roofs,
EDP flashing kit – for plain tiles on 25° – 90° pitched roofs,
EAW flashing kit – for tiles on 10° – 75° low-pitched roofs,
ZWC special header flashing kit – for use alongside non-traditional roof materials that aren't slate or tiles.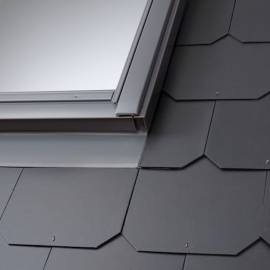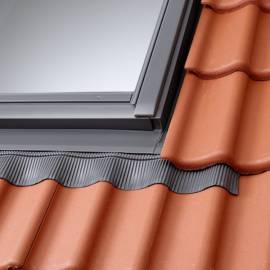 For Have Many Roof Windows, Do You Need Flashings?
You might need a different flashing type depending on the number of Velux roof windows you are planning to install next to each other. There are multiple flashing options depending on the number of windows and how you want to arrange them.
Twin is the typical flashing for two windows placed next to one another with a 50 mm gap between them.
Recessed Duo is a similar kit (also for two windows, but a recessed installation), that requires the gap to be at 100 mm.
Coupled, on the other hand, is an option for two roof windows with a 100 mm gap needed for maximum efficiency.
Triple is the typical flashing for three windows placed next to each other with a 100 mm gap between them.
Quattro flashing is a kit for four windows with a 100 mm gap, in order for the flashing to operate correctly.
What Type of Flashing Are You Interested In?
As you make your choice, you have to take into account that there are two main types of Velux roof window flashing, standard flashing and recessed flashing. The difference between the two is that recessed flashing is designed for roof windows that will sit around 40 mm lower into the roof than standard flashing.  Recessed flashing come in two options, EDN for slates, and EDJ for tiled roofs.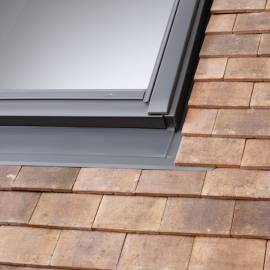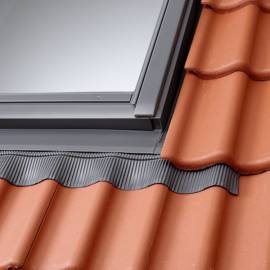 Final Thoughts   
The Velux flashing that you require for your roof window depends on the material of the roofing and the types of finish you might want. Make sure to choose the kit that matches both the technical and your personal requirements. As you already know, there is a wide range of Velux flashings, so you can be sure to find what you need.
Keep in mind, that Velux offers accessories that go with their roof window flashings before you make your final decision, make sure to check out their accessory offer as well.