Blinds for roof windows are available in various colors and patterns and most of us think about such accessories as decorative features however there are a lot more benefits from installing a roller blind.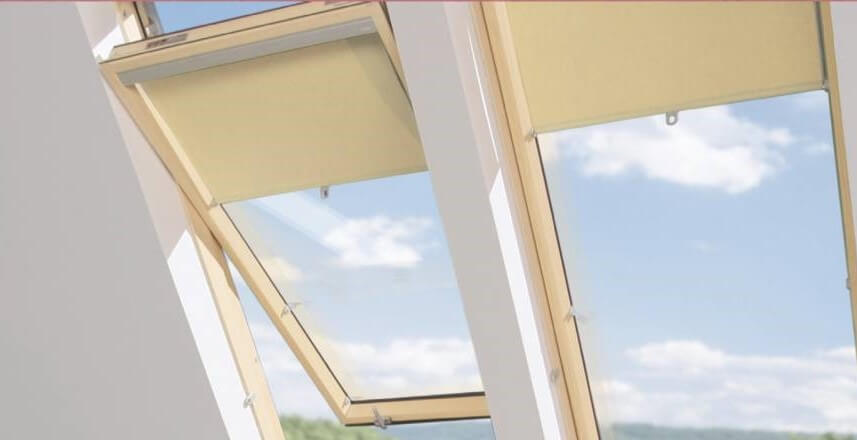 Having a blind you are in control of the light coming into the room at the same time you also control the room temperature. During hot days you reduce the amount of heat entering the room and the room can cool down quicker if, for example you are using air conditioning and during the long and cold winter days you reduce the heat escaping the room.
Another important aspect is privacy, if for example you have nosy neighbors and you don't want them to peek and reduce the light entering the room while you sleep.
To help to achieve that you can choose between translucent roller blinds and blackout roller blinds.
Translucent blinds are the perfect choice if you need a gradual reduction of incoming heat and light and protection of the interior against UV radiation.
These blinds can be found on our website under this link – https://sunluxroofwindows.co.uk/250-blinds-accessories#/fabric_type-transparent
These blinds are available in two fabric colors – beige and blue
Roller blinds available on our website are suitable for Velux windows – models GGL, GPL, GZL, Fakro roof windows of all types ( except for FFT U5 ) RoofLITE AA and DP and Optilight windows models B and VB.
Blackout blinds are equipped with side guides hence they are ideal solutions when you need more privacy and offer better reduction of the heat entering the room during sunny days or escaping the room heat temperature during cold days due to the reflective external fabric. Side guides on these types of roller blinds also offer the best light reduction when fully closed by covering the whole window.
These type of blinds for Sunlux , Optilight and Fakro windows both PVC and timber can be found on our website under this link – https://sunluxroofwindows.co.uk/250-blindsaccessories#/fabric_type-blackout
Blinds, depending on the brand of the window, are available either in white or beige and blue colors.