As they can be both aesthetically pleasing and functional, roof windows become more and more popular solutions for adding a wow factor to a modern home.
One main advantage of installing skylights is the possibility to let more light into loft conversions and illuminate even the darkest corners of a house, such as staircases and corridors. Other than that, you can install roof windows for an additional source of ventilation, overall better thermal control of the building and reduced heating bills.
Furthermore, choosing the right roof window for a flat roof extension – no matter whether it's an additional living space or an orangery – will make it feel more spacious and airy, enabling you to create a better living environment.
However, when it comes to choosing the right roof windows for your particular needs, it's easy to get confused or even overwhelmed by the number of designs and manufacturers available on the market.
To help you out, we've compiled this simple step-by-step guide that walks you through everything you need to know – glazing, operation style, location – about how to choose roof windows for your flat roof.
Step 1: Decide on the Location
Firstly, you need to decide where you want to install your flat roof windows. Their sizes and the exact number will depend on the specific location, so it's important to get this right from the start.
Location, in turn, will largely depend on the purpose of your extension – if it's an additional living space, you might want to install the skylights in the centre of a ceiling to let more natural light into the room and create a more airy feel. On the other hand, if you're planning on using the space as a home office or a study, you might want to position the rooflights closer to the desk to provide natural task lighting.
Now, if you opt for self-cleaning glass – a specifically designed coating that will ease the cleaning process – keep in mind that it needs to be installed in a position where it can be reached by direct sunlight, as this is what activates the self-cleaning mechanism.
Another thing you need to take into account when determining the location is how much light you want to let in. If you want to use them as a main source of lighting for the whole room, you'll need to install them closer to the centre. If, on the other hand, you want to use them as an accent light or make them the focal point of the flat roof extension, you can install them closer to the edges.
Step 2: Choose the Type of Flat Roof Windows for Your Needs
To get the best natural light, you need to choose the right roof window. Fortunately, there are plenty of different styles of flat roof windows available on the market today, ranging from flat glass domed rooflights to sky lanterns to walk-on skylights.
Keep in mind that there are two main types of roof windows – fixed or openable – so before you choose the style, you first need to decide if you want your flat rooflights to have opening mechanisms.
A fixed window, or a non-opening window, is a low-maintenance option that provides excellent insulation. These are usually less expensive options as they do not require a lot of expensive electrical components. For instance, lantern windows are the kind of pitched roof windows made up of a high central ridge, different panes of glass and glazing bars in between the sheets of glass.
When it comes to openable windows, there are two operation styles – manual and electric, each with its own set of pros and cons.
Manual rooflights are operated using a handle or a crank, which makes them an ideal solution if you're on a budget or looking for a more traditional option. However, they can be quite difficult to open if they're installed in a high position, so make sure you take this into consideration before making your decision.
Electric skylights, on the other hand, are operated using a remote control, which makes them much more convenient to use. They're also more energy-efficient, as they can be programmed to open and close at certain times of the day.
If you want to maximise the airflow and add daylight to the interior, you should opt for openable roof windows. However, they're usually more expensive than fixed skylights, so keep your budget in mind when making your choice.
Here are some of the best flat roof skylights on the market, which you can find in our offer:
Fixed Flat Glass Rooflights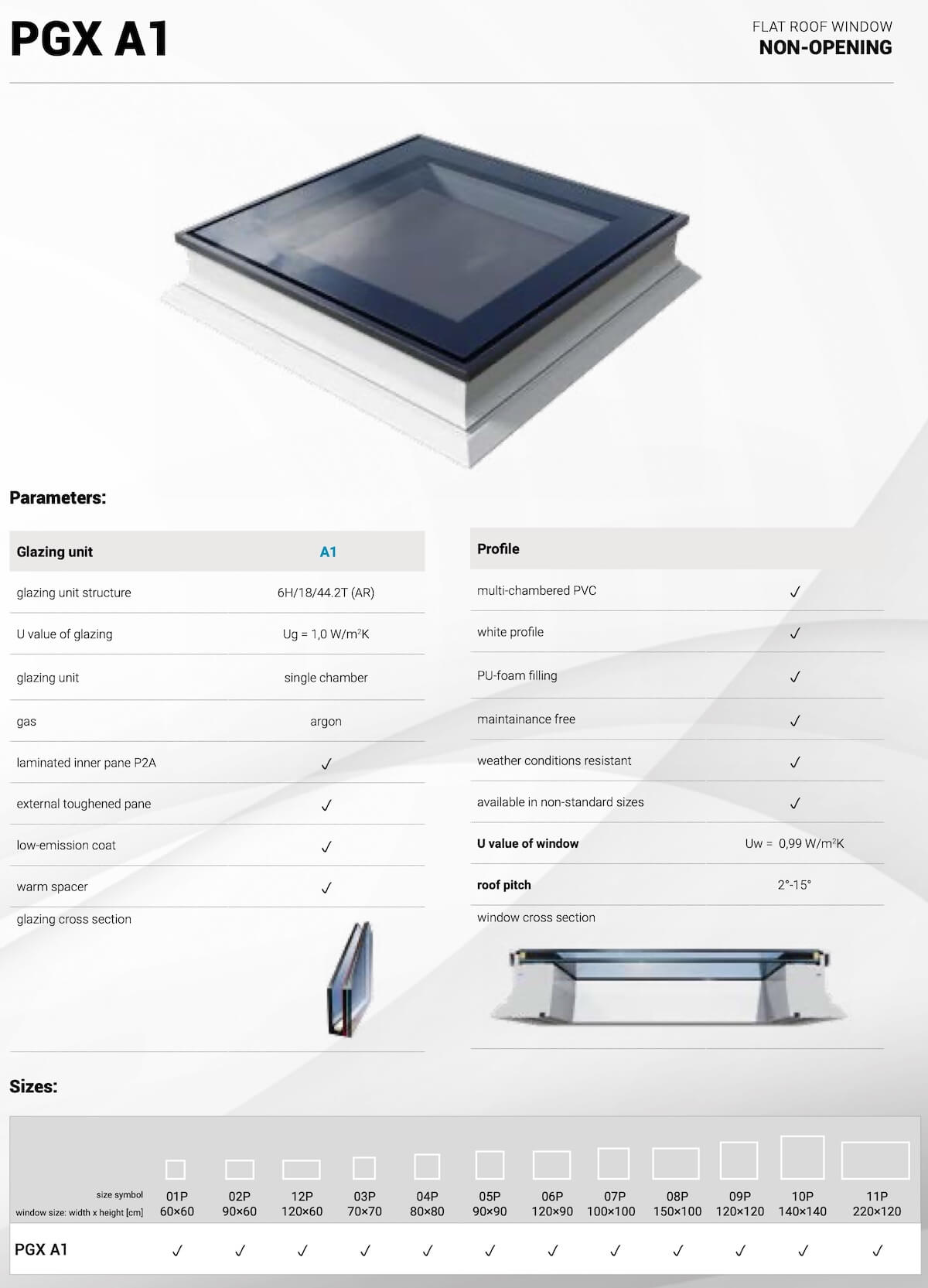 Fixed flat glass rooflights are an easy-to-install, cost-effective yet durable solution that provides excellent natural lighting and will bring any room to life. The Sunlux flat roof windows we offer are a non-opening and double-glazed option. They also have excellent thermal insulation thanks to the new technologies and high-quality materials used for the frame construction.
In addition, they sit flush on a flat roof, and their innovative design makes them a neat yet bright addition to both the exterior and interior of a modern home.
Walk-On Flat Glass Rooflights
This type of skylights is manufactured with specially toughened glass in order to make them capable of withstanding heavy weights, including the weight of people walking over them, which would be a handy solution for roofs with a lot of high traffic. This is mainly the case for commercial buildings, as you don't need this level of safety precautions if you access your roof only for cleaning and regular maintenance purposes.
However, if you want to install roof windows to let in more light but you're actively using your roof as a terrace and don't want to limit the amount of free space available there, walk-on rooflights would be a perfect solution. They are robust and made of high-quality materials that will last for years to come without discolouration and deterioration.
Electric Hinged Flat Glass Rooflights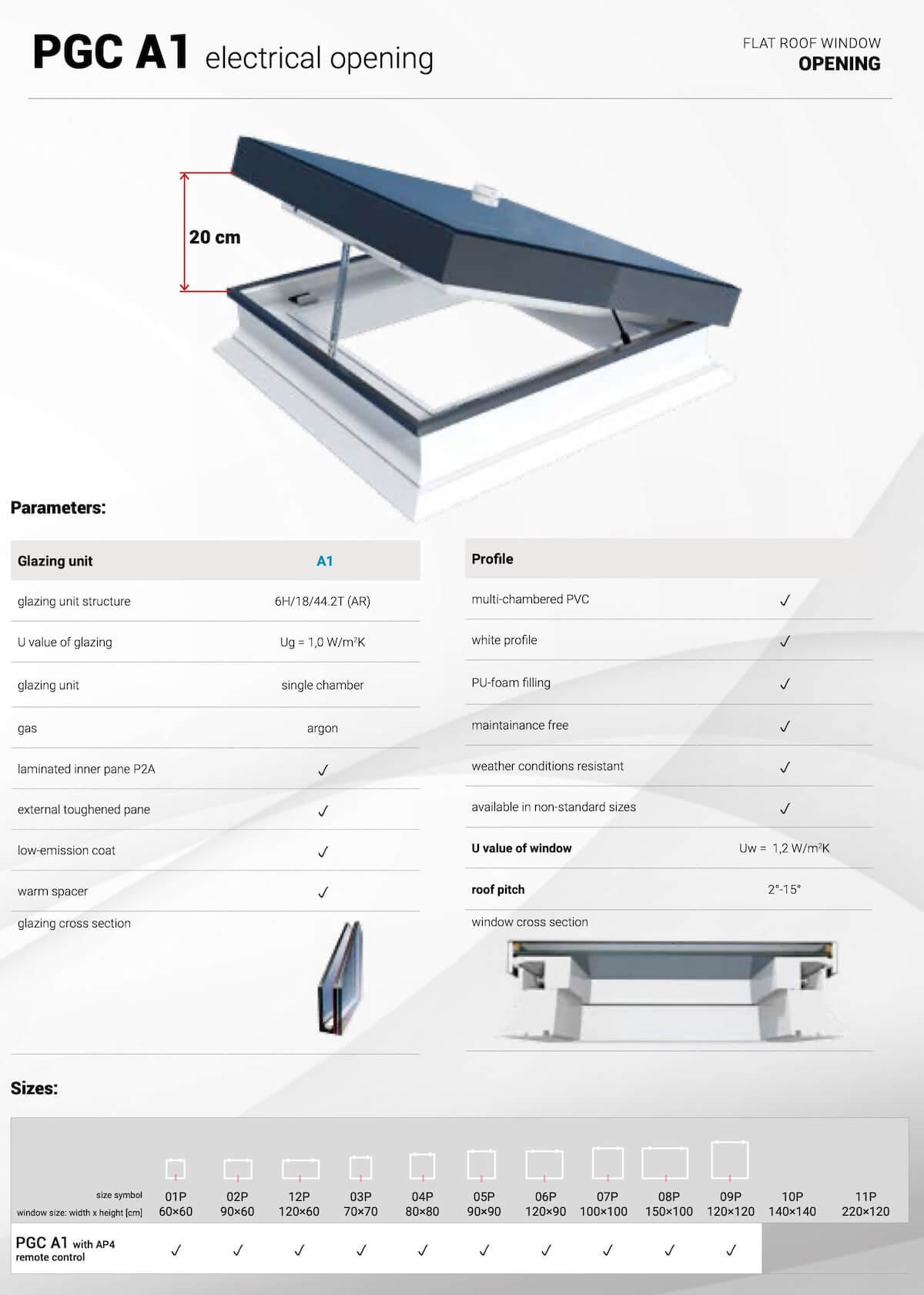 Electric hinged flat glass rooflights are specifically designed to maximise the airflow and the amount of light entering your house, thanks to the electric features that make them much easier to operate.
If you have been looking for flat rooflights capable of elevating your interior while also being highly energy efficient, then this is definitely a category worth checking.
Access Flat Glass Rooflights: Manual & Electric
If you want to be able to access your roof from the comfort of your home, you will appreciate the accessibility and convenience of the access rooflights, regardless of their operation type. Other than that, they also provide excellent ventilation and insulation, resulting in lower energy bills.
Besides, access roof windows are highly customisable, so you will be able to tailor them to your particular needs.
As you can see, our selection includes a wide range of flat roof windows in various shapes and styles. They also include an anti-burglary glazing unit, along with solutions for UV rays and harsh weather resistance. All of them have excellent thermal insulation parameters, which makes them stand out from the competition in terms of quality and presentation.
Whatever roof window addresses your needs, you can rest assured you pay the best price for quality, functionality, and design – all at once.
Step 3: Determine Materials and Size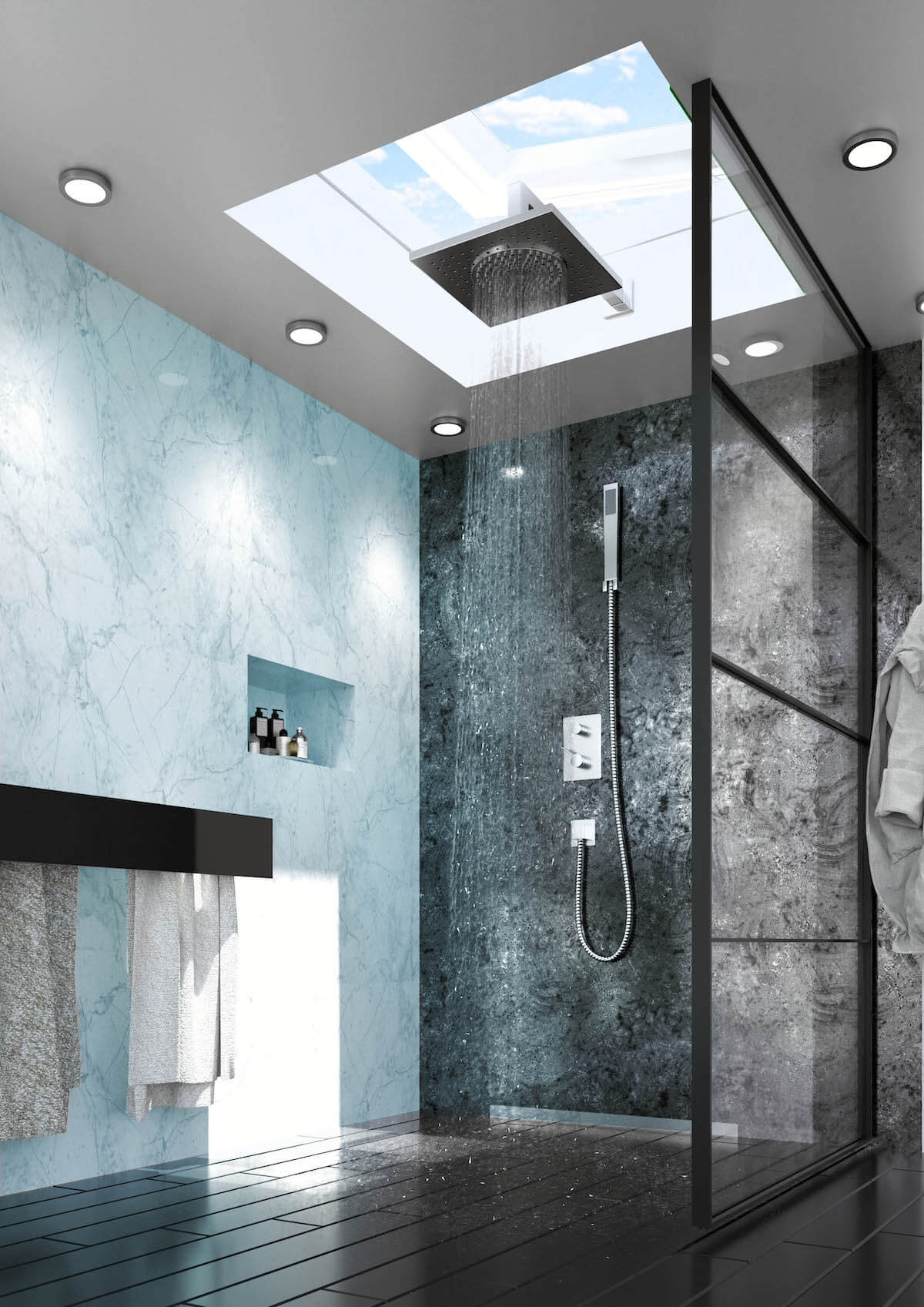 Once you know which types of roof windows you need, it's time to start thinking about the materials.
The most common type of material used for roof windows is glass – it's durable, low maintenance and provides good insulation, which is essential for keeping your home warm in the winter and cool in the summer. However, if you live in an area with a lot of wind or rain, you might want to consider going for an acrylic or polycarbonate roof window instead as they are less likely to break.
Another thing to think about at this stage is the frame – it can be made from wood, aluminium, or uPVC; each material has its own advantages and disadvantages.
For example, wooden frames are more aesthetically pleasing but require more maintenance, while aluminium frames are more durable but tend to be more expensive. uPVC window frames provide extra strengths and are perfect for high humidity areas, such as bathrooms.
The size of a roof window will depend on the size of your room and the amount of natural light you want to let in.
It is crucial to get the right balance as a roof window that is too small will not let in enough light, whereas one that is too big will let in too much light and make the room feel hot and stuffy.
The ratio of the window's glass surface area to the entire floor area determines the appropriate amount of natural light needed for the space.
Step 4: Consider Your Window Glazing Options
The type of glazing you choose for your roof windows will also have a significant impact on their performance and, ultimately, on your satisfaction with the final results – glazing has a big influence on the amount of light that comes into your room as well as the level of insulation.
The three most popular types of glazing are single, double, and triple glazed roof windows. Here is what you should know about them:
Single Glazing
Single glazed windows are the most basic and affordable option. However, they don't provide a very good level of insulation, so they might not be the best choice if you live in an area with a colder climate.
Double Glazing
The most popular option on the market is double-glazed skylights, which are a step up from single-glazed ones, as they consist of two layers of glass with a layer of air or gas in between. This makes them much more energy-efficient and provides a better level of insulation, which is why they're a great choice for colder climates.
They also provide better sound insulation than their single-glazed counterparts; however, they're also more expensive.
Triple Glazing
Triple glazed windows are the most energy-efficient option, as they consist of three layers of glass with two layers of air or gas in between. This makes them ideal for colder climates, as they provide an excellent level of insulation. However, they're also the most expensive option.
Another thing to consider at this stage is the type of glass – clear or tinted? If you want to install the skylights in a place that doesn't get much natural light, such as a staircase, you might want to opt for clear glass to brighten up the space.
On the other hand, if you're planning on using the area for relaxing and spending time with family, you might want to consider tinted glass to reduce the glare and create a more comfortable environment.
Finally, you should also think about the type of finish you want for your skylights. The most popular options on the market are clear and obscure glazing, but there are also options available with a patterned finish.
Step 5: Choose Your Extras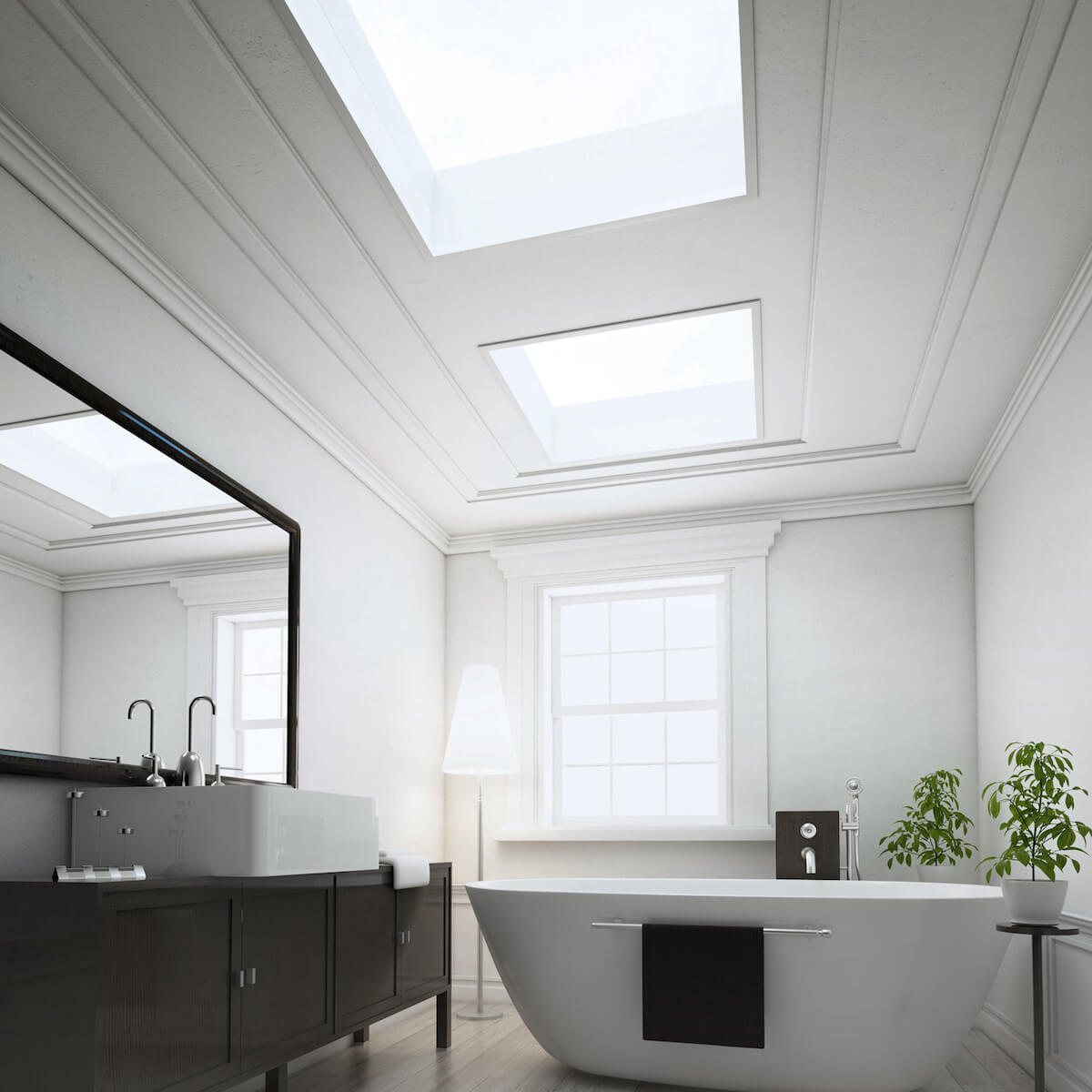 Now, once you've decided on the basics – location, materials, type, glazing, -you should determine whether you need any add-ons. They will affect the total price, so remember to consider your budget.
For instance, blinds and shutters will come in handy when controlling how much light enters the room as well as the temperature inside. You can also find blackout blinds, ideal for rooms that are used for sleeping, as they can block out all of the light.
Other than that, different blinds and shutters are an excellent way to add a splash of colour or a personal touch to the room, so you might also consider them for decorative purposes.
You might also want to consider adding a mosquito net to your window. This is a fine mesh that covers the opening of the window and prevents insects from getting into the room – perfect for homes in warmer climates.
Another accessory you can include is rain sensors that will close the windows automatically if the weather changes when you're not around.
FAQ
Below, we answer some of the most commonly asked questions about choosing roof windows for a flat roof.
What are the different types of roof windows?
Generally, there are three main types of roof windows available on the market: top-hung, side-hung, and centre-pivot windows.
Centre-pivot roof windows are the most popular type as they offer excellent ventilation options as well as being very easy to operate.
Top-hung roof windows are also a great option if you are looking for excellent ventilation, but they can be a little more difficult to operate than centre-pivot models.
Side-hung roof windows are a good choice if you need to maximise the amount of light that comes into your room, but they do not offer much in terms of ventilation.
However, these are the options for pitched roofs, meaning that in the case of a flat roof, you need to choose roof windows from:
lantern rooflights,
walk-on rooflights,
flat glass rooflights,
flat glass domed rooflights
polycarbonate domes.
What size roof window should you choose?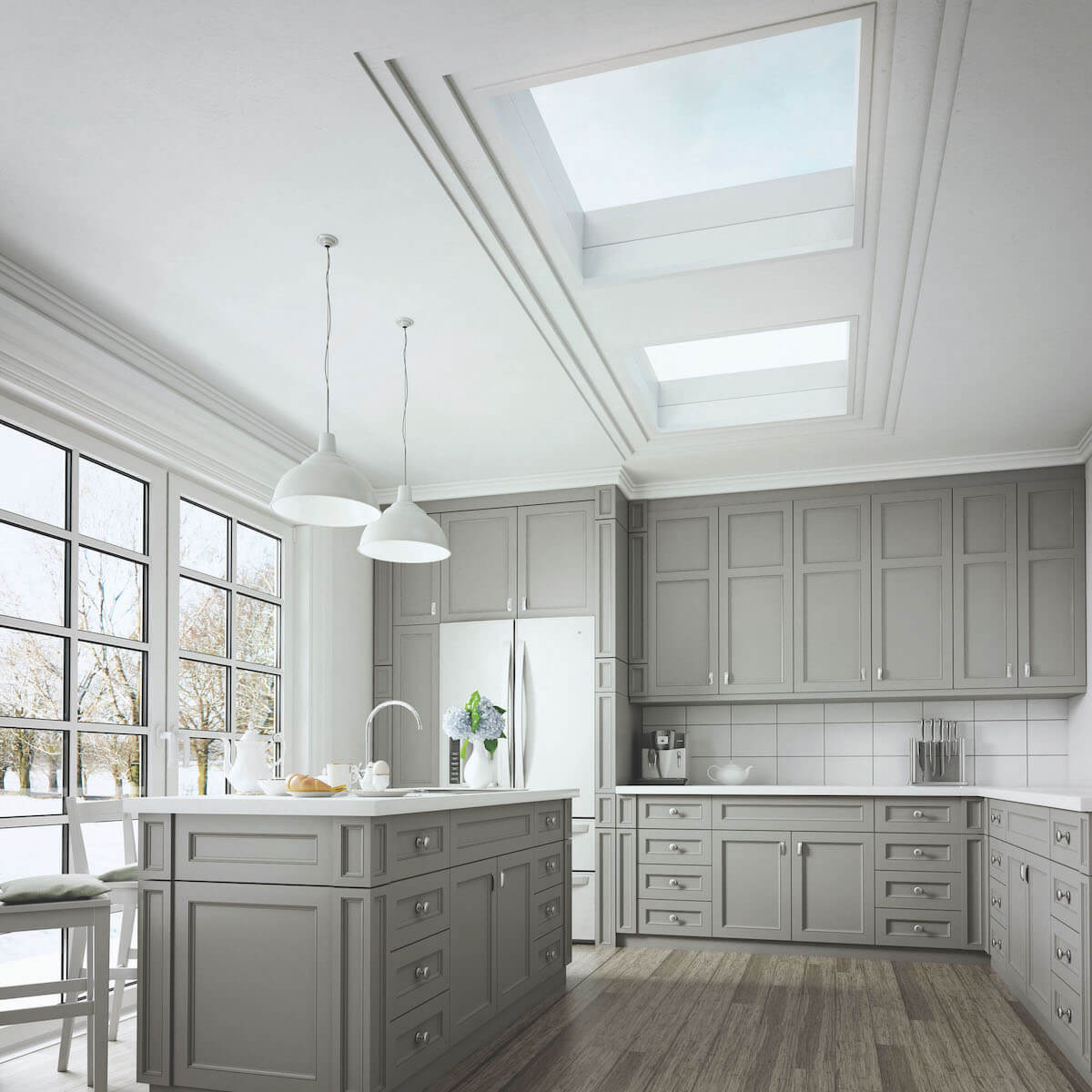 The size of the roof window will depend on the size of the room and the amount of light you want to let in. However, you also need to make sure that the window is not too large for the space – otherwise, it will look out of proportion and make the room feel smaller, as well as cause rooms to overheat.
Do I need planning permission to install a rooflight?
In most cases, you won't need planning permission to install a roof window. You can install it under Permitted Development (PD) rights as long as they do not project more than 150mm beyond the roof plane.
However, there are some exceptions – for example, if your property is listed or if you live in a conservation area. It's always best to check with your local council or planning authority before proceeding.
What kind of window glazing should I go for?
There are a few different types of glazing available for roof windows, including single, double and triple glazing. Single glazing is the cheapest option but offers the least insulation, while triple glazing is the most expensive but provides the best insulation.
For this reason, double glazing remains the most popular option among homeowners, both in terms of affordability and insulation properties.
What are U-values and which is best?
The U-value is a measure of how well a window insulates against heat loss. The lower the U-value, the better the window is at keeping the heat in. The U-value of a window is affected by the type of glass, the type of frame and the type of spacer used.
It is important to choose a roof window with a low U-value as this will help to keep your heating bills down.
How much do flat rooflights cost?
The cost of flat rooflights will vary depending on the size, material and type of window. Considering that many models are highly customisable, some bespoke options can start from £10,000 and have almost no upper limit.
However, you can expect to pay anywhere from £250 to £1,500 for a single roof window, if you need something traditional.